Last week I attended the BNP Paribas Masters 2016 tennis tournament in Bercy, Paris, which offers a great experience for tennis fans. Read on for my fan's eye view.
As an ATP Masters 1000 tournament Bercy attracts high quality players. We bought tickets for the semi-finals which include two doubles semi-finals as well as both singles semi-finals. The first singles semi was between John Isner and Marin Cilic. Isner played (in his own words) his "best match of the year", defeating Cilic in straight sets.
The second match was to be played between Andy Murray and Milos Raonic. With Cilic defeating Djokovic in their quarter-final match, there was a lot of anticipation around the Murray Raonic match as Murray would become world number one if he won. Raonic withdrew due to injury so we didn't get to see what could have been an intense match, which was disappointing, but Murray, the new No.1 as of Monday, held an extra practice session to keep the crowd entertained. And there was a nice celebration of his new ranking status.
Tennis aside, here's my wrap up of the fan experience.
The Venue
The Accor Hotels Arena, the venue since 2015, is world class – almost as nice as Margaret Court arena 🙂
It's an indoor hard court tournament so there's no risk of bad weather stopping play and despite the icy temperatures outside it was surprisingly warm inside, warm enough to be comfortable in a t-shirt or shirt, which I didn't expect from such a big arena.
The venue is easy to get to via the Metro, is right next to the Metro station and is quite centrally located. Bercy is a really great area with Bercy Village close by full of shops and restaurants if you want to go somewhere local for refreshments at the end of the day.
The venue offers free wifi which was a pleasant surprise. There were light boxes promoting the availability and it was easy to access and fast. I wish all tournaments did the same.
The area outside the arena is big and open with a beautiful roof and there are plenty of outlets to buy a range of food and drinks, plus sponsor activities.
The Accor Hotels Arena is a big venue with 14,000 seats for tennis. The front section has a lot of rows in comparison to other tennis venues. A downside of this is that there are a lot of steps down to seats near the front, and the steps are really skinny with a risk of slipping, making it hard to walk fast to get back to your seat during a change of ends.
The seats are comfortable but there is absolutely no leg room and like many bars and restaurants in Paris, you're jammed right up to the person next to you. Another thing that seemed quite strange is that there are no seats on the ladies' toilets. (Sorry if that's too much information!)
Read more http://www.accorhotelsarena.com/en
The Crowd
This was one of my favourite tennis crowds. Great tennis etiquette. Great atmosphere.  No booing players. No chatter during the match. No mobile phones ringing. No moving to and from seats when it wasn't a change of ends. And the umpire called out to anyone who used a camera with a flash. Plus the "We Are Tennis" fan academy, complete with an orchestra, kept everyone entertained during the breaks.
Ticketing
I think tickets are reasonably priced for the back sections, but they are a long way back, and reasonably expensive for the front sections. (Note that I have no other Masters 1000 ticket experience to compare them too).
View the ticket packages and pricing
Other things I liked
There was a fancy light show to welcome players to court but no over done disco music.
The scoreboard was big and above the court so easy to monitor without any head swivelling required
There weren't any flashing "break point" light shows on break points (this happens at some tournaments and I think it must be really distracting for the players)
I'm not sure if there is a limit on how much food or drink you can bring in as long as it fits in a small bag but we were fine to bring in snacks and drinks in plastic bottles.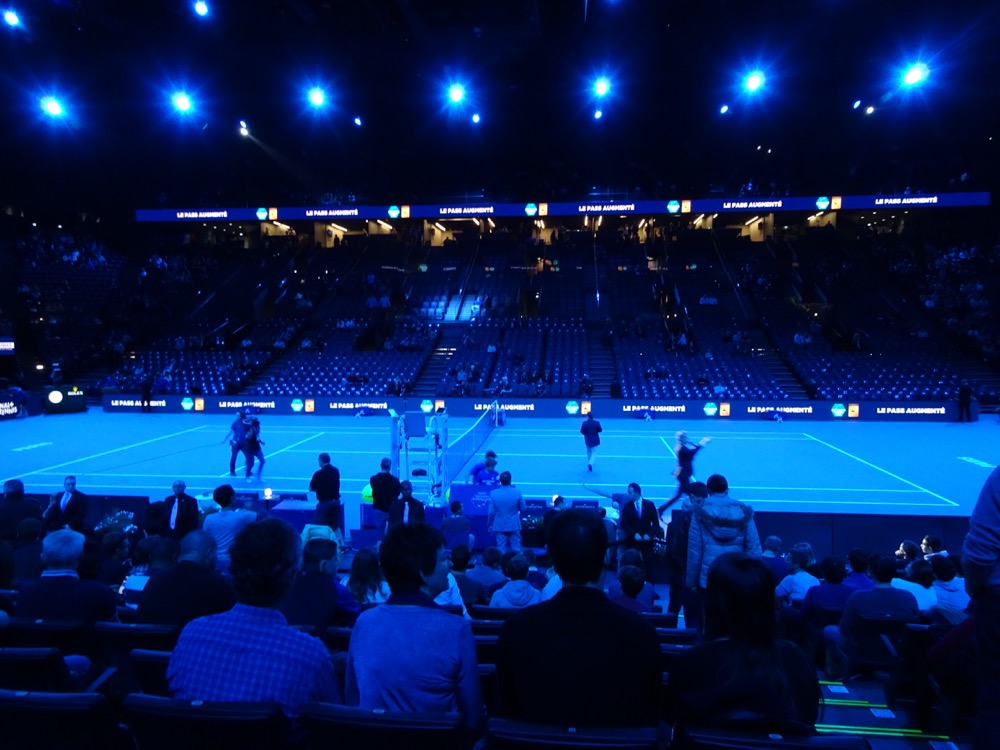 Despite the cold time of year, Paris is a fabulous city to visit and allows you to combine famous sights, fabulous museums and great shopping. It's easy to get around on the Metro and there is an endless array of bars, restaurants and cafes to enjoy. If you get the chance to attend the BNP Paribas Masters I say go for it. It's a completely different tournament experience than the French Open.
Until next time
Grand Slam Gal